Posted on 04-23-2015
Lets Talk Snacks
Yes..... Lets........
Well, I've just started a new exercise routine. Which means...... I'm HUNGRY
A lot of the times...... well..... All the time...
So lets talk snacks.... We all know fruit and veggies are an easy snack. If prepped at the beginning of the week, they are a quick, mindless thing to grab and scarf down.
But sometimes those fruit and veggies aren't enough.
Sometimes I/we all get
or just regular cravings.
I tend to get salty, crunchy cravings... think chips....yummy, greasy, crunchy CHIPS.
So for this Fit Food Friday I'm cluing you in on a little secret I found. It's crunchy, it can by salty, it can have any flavoring you can think of, and it's packed with protein. Just the thing I need!!!! (oh, and my girls loved them!!)
I am going to introduce you to......
Roasted Chickpeas
They are super yummy and you can make them with any combination of spices that you can think of.
My most recent favorite was made to go with our tacos. I ate them on the side, hubby put them in his taco.
Mexican Roasted Chickpeas
recipe Courtesy of : www.lifeinpleasantville.com
2 19-0unce cans chickpeas (rinsed well and blotted dry with paper towels)
4-5 teaspoons chili powder
3 tablespoons olive oil
1 1/2 tbsps fresh lime juice
1 tsp sea salt
2 tsps cumin
1-2 tbsps chopped fresh cilantro
Preheat oven to 400F. Line a baking sheet with aluminum foil and spray with cooking spray. Spread chickpeas out in a single layer over the foil. Pleasantville note: Remember the drier they are when you put them in the oven the better. Bake chickpeas for 40 minutes or so, tossing chickpeas every 15 minutes or so. Near end of roasting time, check for doneness by removing a couple and letting them cool for a minute. They are done if they are crunchy all the way through. If still soft they need a few more minutes.
While chickpeas are roasting prepare spice mixture in a large bowl, whisking to combine. When chickpeas are done, remove from oven and let cool for a minute or two, before tossing them in bowl with spice mixture to cover well. Eat immediately or store in an airtight container (once cooled completely) to eat later.
or try these:
Garlic Parmesan Roasted Chickpeas
Salty Parmesan and pungent garlic mingle with crunchy roasted chickpeas in our reader's winning recipe, which she created as a snack for her nut-allergic sons.
Photo: Maya Visnyei
By Brenda Bennett
Courtesy of: www.cleaneatingmag.com
Makes: 2 1/2 cups
Hands-on time: 10 minutes
Total time: 55 minutes (plus drying time)
INGREDIENTS:
2 15 1/2-oz BPA-free cans chickpeas (aka garbanzo beans), drained and rinsed
1 tbsp olive oil
1 tsp minced garlic
1/2 tsp sea salt
Fresh ground black pepper, to taste
1/2 cup grated Parmesan cheese
INSTRUCTIONS:
Spread chickpeas on several layers of paper towel and let dry for 30 minutes.
Preheat oven to 400°F. In a medium bowl, combine oil, garlic, salt and pepper. Add cheese and stir until crumbly and oil is absorbed. Add chickpeas and toss to coat.
Spread on a baking sheet and bake for 45 to 50 minutes, until golden and crispy.
or for something SWEET...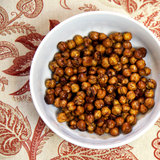 Ingredients
15-ounce can organic garbanzo beans
1/2 tablespoon olive oil
1 tablespoon honey
1/2 teaspoon cinnamon
1/8 teaspoon nutmeg
1/8 teaspoon sea salt
Directions
Preheat oven to 375°F. Line a baking sheet with parchment paper or a Silpat silicone mat.
Drain and rinse the chickpeas in a colander. Place them on a towel to dry off.
Spread chickpeas on a baking sheet in a single layer. Bake for approximately 45 minutes or until crispy. Test one, and if it's still soft, bake for longer.
While the chickpeas are still hot, toss them in a bowl with the oil, honey, cinnamon, nutmeg, and salt. Enjoy as is, or for a caramelized effect, place them back in the oven for another 10 minutes or so.
Store leftover chickpeas in an airtight container.
There are no comments for this post. Please use the form below to post a comment.